Merries Premium Nappy Pant - Size XXLarge (15 - 28kg)
Merries Premium Nappy Pant - Size XXLarge (15 - 28kg)
Product Description
Merries premium breathable nappy pants are super soft and made with sensitive skin in mind. Your baby's skin is only half as thick as an adult's skin. Once we discovered this brand, while travelling in Japan, we have never looked back. Perfect for my eldest that has eczema and is very hot blooded and stays in place with my very active youngest.
Merries aim to be the most "gentle to the skin" nappy in the world. Once you try a Merries nappy pants, you'll see why it is the No.1 Seller in Japan Nappy market.
Once baby starts to get too active to lie still, try some nappy pants to save your sanity and time. Super easy to change, they are a perfect fit without having to make any adjustments.
Features:
Size : XLarge
Weight recommendation :

15 - 28

kg

Waist size: 46 - 64 cm

Pack size : 26 Pack
Click Here for the Size Chart
Buy 4 Packs and Save More!
Features of Merries Nappy Pants
•

1. Exceptional breathability

The skin-friendly wavy top sheet does not stick to your baby's skin. It allows air to flow freely between the diaper and skin, so your baby stays dry and comfortable!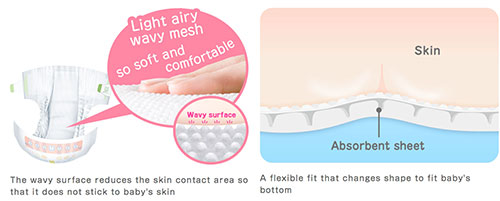 •

2.

Superb Absorbency

Merries' air through system instantly draws in and locks away pee, leaving the diaper surface drier for longer usage!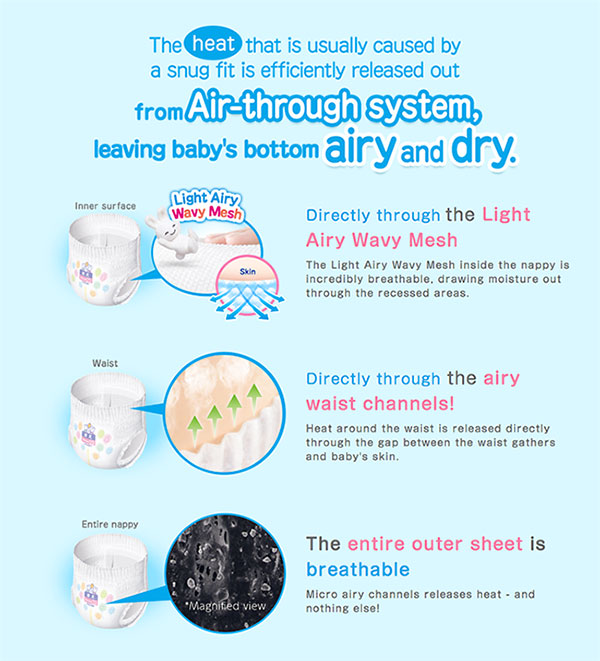 •

3.

Soft Poo Absorbing Sheet – Prevents dispersion of soft poo

The recessed areas of the soft sheet effectively trap the soft poo. At the same time, the soft poo-absorbing sheet prevents its dispersion by continually drawing moisture away. This reduces the skin contact with the soft poo, thus protecting your baby's delicate skin from harmful irritants.
•

4.

Flexi-fit Shape and Stretchiness

Merries is so soft, it transforms into a flexible 'w" shape at the crotch area to accommodate your baby's limb movements. It provides gentle comfort, even when your baby becomes more active.

•

5.

Side Gathers to Prevent Leakage

The raised gathers fit snugly around the thighs to prevent leakage from the soft poo.
•

6.

Colour-changing Wetness Indicators

When the strips change colour to dark green, it is time to change the diaper.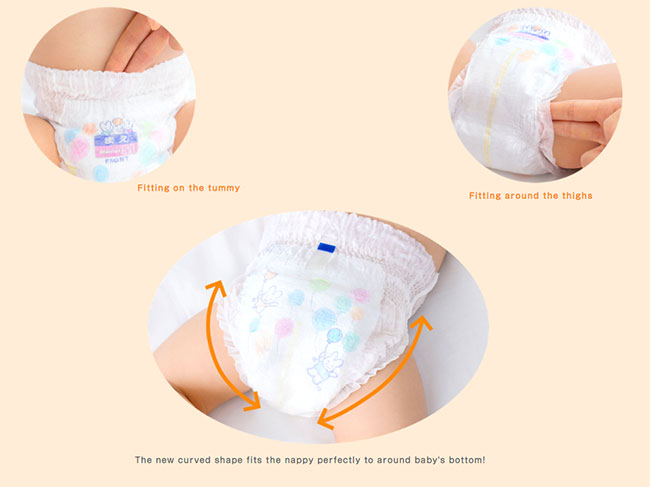 •

8.

Cute and Colourful Designs
*in term of Sales Value share for Nappies and Nappy Pants, based on research SRI data of INTAGE Inc., Japan., (Jan. 2007 to Dec. 2017).